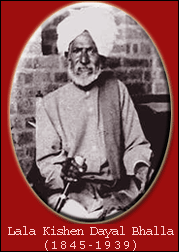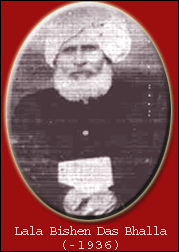 --Ao3m(--

Thank you very much for visiting my Website. I am researching the BHALLA family from Sri Hargobindpur, District Gurdaspur, Punjab, India. According to the history the 5th Guru Sri Guru Arjun Dev Sahib grandson of 3rd guru Sri Guru Amar Das, a Khatri of the BHALLA sub-cast resident of village BASARKE Gillan near Goindwal, District Amritsar undertook a tour of neighbouring area in A.D.1590 after building a first town named Taran Taran and completing the construction of the second project temple and the tank filled with water and it was given a new name, Amritsar (the pool of nectar).

From Taran Taran, Guru Arjun Dev Ji went to Jullundur (Jalandhar) Doaba and raised a third town called Kartarpur and from Kartarpur he went to Lahore from there on traveled to banks of river Ravi and Beas on banks of Beas he built yet another town which he named after his son Hargobind, Gobindpura.



Guru Hargobind Sahib was born at village Guru Ki Wadali (district Amritsar) on Harh Vadi 7th (21 Harh), Samvat 1652 (19th June, 1595). He was extremely handsome and the only son of Guru Arjan Dev Sahib and Mata Ganga Ji, a Khatri of the sub-cast Sodhi. Guru Hargobind Sahib succeeded Guru Arjan Dev Sahib in 1606, at the age of eleven years. After the martyrdom of Guru Arjan Sahib, the moment was crucial for the Sikhs. He undertook Dharam Parchar tours to speed Sikhism. He started from Amritsar and covered thousand miles in India. In Punjab he visited Kartarpur and made it as headquarter of Sikh Nation in Doaba. He also visited several adjoining villages like Bara Pir, Mukerian and laid the foundation stone of Sri Hagobindpur town (the original name of this town was Gobindpura) near the river Beas in 1621. A small conflict of Rohilla near Sri Hargobindpur was fought in 1621. It was the first armed clash between the Faujdar of Jalandhar and Hargobind Sahib.



Near the site of new town Sri Hargobindpur, Bhagwan Das, a Khatri 'Kirar' contemplated his right of ownership on the land and with the help of some hired ruffians forcibly tried to dislodge the Sikhs, who were engaged in developing the new township. In the ensuing small clash Bhagwan Das and his most hired ruffians were killed. After this incident, Rattan Chand (son of Bhagwan Das) and Karam Chand (son of Chandu Mal) incensed the Faujdar of Jalandhar against Guru Sahib. Abdulla Khan the Faujdar of Jalandhar dispatched ten thousand soldiers. They were intercepted by the mighty and devoted Sikh Saint-Soldiers at Rohilla Ghat on the bank of the river Beas. The Mughal army met a crushing defeat by the hands of, but there was an immense loss of lives and material on the both sides. Besides Rattan Chand and Karam Chand, the Faujdar of Jalandhar, Abdullah Khan his two sons and five commanders were killed. Guru Sahib sacrificed Saint Soldiers like Mathura Bhat Ji (son of Baba Bhikha Ji), Bhai Nanu Ji, Bhai Saktu Ji, Bhai Jattu Ji, Bhai Pirana Ji, Bhai Paras Ram Ji, Bhai Jagannath Ji and Bhai Kalyana Ji.



In December A.D. 1634 Guru Hargobind Sahib fought a fierce battle against Mughal forces. They did not want and built a Gurdwara. The Guru forces were victorious although they were heavily outnumbered. After the battle Guru Hargobind Sahib showed his respect and tolerance of other religions by not only finishing the work on the Gurdwara but also ordered the building of a mosque for Muslims. The Gurdwara was named (GURDWARA DAMDAMA SAHIB) AND mosque was named (GURU KI MASSEET).

The Bhalla Khatri families (Zamidar and Shaukar) moved to Sri Hargobindpur from village Basarke Gillan in District Amritsar and settled, in this town and performed as Shaukara (Bankers and Landlords). Later some families moved to other parts of India, but Bhalla khatries originated from Basarke Gillan and Sri Hargobindpur, District Gurdaspur, Punjab, India.

The top of my ancestor chain begins with Guru Amar Das ji Bhalla. And I am aware that only one of his decedents, whose family I belong to.

Any information regarding to the above or any part of the family would be greatly appreciated I am also willing to share the information which I have with any one who is willing to help me out of this task.

To view a partial listing of "Family Notes", "Family Photographs" and THE BHALLA FAMILY Internet TREE Please click above on the appropriate Links and follow the instructions accordingly.
Sincerely,
Baldev Raj Bhalla
E-mail : brbhalla@hotmail.com
Ao3m( xaiNt" - xaiNt" -- xaiNt" ---
OM Shanti ! Shanti !! Shanti !!!